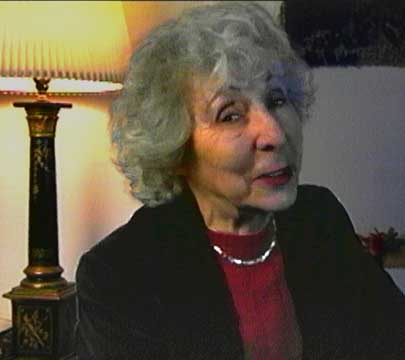 Rebecca Lepkoff has been photographing New York City since the late 1930's. Associated with the Photo League, she captured the ethnic richness of life on the Lower East Side and preserved that culture on vintage silver prints. Some of these rare historical prints are still available, and sell for thousands of dollars today. She also makes modern prints from the original negatives which can be bought for only a few hundred dollars, and are more available to her growing stable of collectors.
Rebecca continued to shoot the Lower East Side throughout the fifties, the seventies, and the eighties. She still creates beautiful photographs today, as well as ceramic art and wonderful quilts (which are not for sale!) Her time is divided between her SOHO loft and country home in Vermont.
Her works can be seen at the Howard Greenberg Gallery in SOHO. If you ask nicely, the director may show you some rare original prints. Please contact Rebecca by e-mail for an opportunity to see more of her works in higher resolution on this website. There are also three excellent video programs featuring her works. "Gathering Grand"- on the 1940's, "Halfway City"- on the 1950's, and "Loisaida"- on the 1970's. These three videos are available seperately for $25 each or as a set for $55. Contact Volcanic Video to order them. All rights are strictly enforced, and no reproduction is allowed without express permission from the artist.
---
Visit the Howard Greenberg Gallery website -
www.howardgreenberg.com
---
Read on for more about Rebecca Lepkoff:
New York Times Weekend section, Friday January 2, 1998, "Metropolis: Glimpses of the first 100 years" by Roberta Smith
"Next door to Greenberg, Gallery 292 has mounted a small, but vivid show of vintage photographs taken in the late 1940's by Rebecca Lepkoff. Judging by these 20 images, Ms... Lepkoff seems to have been equally drawn to the city's people and it's architecture.
She photographs well dressed professionals in "Early morning rush hour", the heated action of a stickball game in "Lower East Side" and a cool basilica of space defined by the legs of the El. But her real subject may be light itself, splintered and rearranged by New York's buildings, shading a scene with gentle grays or turning figures into dramatic silhouettes."
---
In the words of Tom Gitterman, Director of Gallery 292:
"Born in 1916, Rebecca Lepkoff grew up on the Lower East Side of Manhattan and started photographing her native city when she bought her first camera in 1938. With a background of modern dance and art history, she photographed with a strong sense of light and abstraction and captured the rhythm of the street. Her exquisite prints are rich in tones and subtleties of lights and darks. Beyond mere documents of a time and place, her images provide greater insight into human existence within the city. Her work captures the energy of the hustle and bustle, the commerce, the elegance and the complexities of modern society and the plight of the individual within it.
Rebecca Lepkoff was an active member of the Photo League from 1947 to 1951. The Photo League, established in 1936 in New York City as an outgrowth of the Film and Photo League, was the only organization of its kind devoted to recording the urban reality of New York City. Lepkoff and other members of the Photo League believed that by documenting the human condition, the photograph was a powerful instrument for social change. However, in 1947 during the McCarthy era, the attorney general listed the Photo League as a communist organization and by 1951 it was dissolved. Other great photographers from the 30's to 50's such as Lewis Hine, Sid Grossman, Paul Strand,Walter Rosenblum, Jerome Liebling, Weegee, Arthur Leipzig, Arnold Eagle, Sol Libsohn, W. Eugene Smith and Dan Weiner were also active members of the Photo League. Yet it was Walter Rosenblum, with his passion and devotion to the potential of the medium, who inspired Lepkoff most.
Now an octogenarian, Rebecca Lepkoff continues to lead an active life between New York and her place in Vermont. Her work was recently included in Naomi Rosenblum's influential publication"A History of Women Photographers" and corresponding traveling exhibition. Rebecca Lepkoff's work is included in such prestigious collections as the National Museum of Art (Washington D.C.) the National Gallery of Canada, the Museum of the City of New York, the Bank of America and the Consolidated Freightways, Inc. Collection."